Supervisor's House - Coranderrk
A group of Taungurung visited the old Aboriginal mission of Coranderrk on Saturday 18 August to help celebrate William Barak Memorial Day. After visiting the Coranderrk Cemetery, the last resting place of many Aboriginal people from the Kulin nation, the group headed for the old Supervisor's house. While it was a fairly low key event many federal, state and local politicians were present. Scheduled events included Gum leaf playing masterclass, tour of the supervisors house and entertainment by the Koori Children's Choir. A Corroboree for young men was held in the evening so unfortunately we had to leave before this event took place.
The supervisor's house is currently undergoing renovation however it seemed to be a considerably large building for the time and period.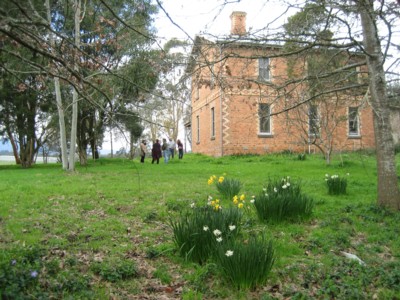 Further information about Coranderrk can be found at the following website.
http://www.museum.vic.gov.au/encounters/coranderrk/index.htm